Lethe Newsletter & Mailing System
Lethe PHP Newsletter & Mailing System is a full-featured newsletter PHP based script which fulfils all subscribers, emails, marketing and newsletter related needs for both personal and business environments.
It has robust, efficient and unique features! This is an all-in-one newsletter tool for your site can be configured to behave as desired and it will provide the best experience for your email subscribers at the same time.
Lethe works the way you do so you can focus on creating newsletters and giving your website the necessary exposure!
Creative E-Mail Contents
With a set of professional, customisable, pre-made templates included, you can start sending appealing newsletters to your subscribers within minutes.
You can also design your own email templates or purchase email templates online to add to your template archive. There are no limitations and templates can be used for different purposes.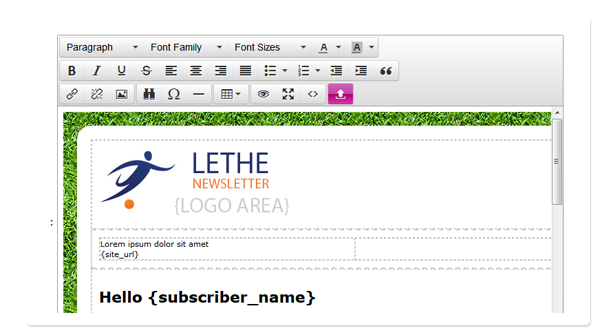 There many features on your administration section. Upon installation, all settings and features are setup as needed so that you can start capturing subscribers and sending newsletters immediately.
Nonetheless, you can configure each and every feature by toggling behaviour, making functionality available, specifying captions and much more.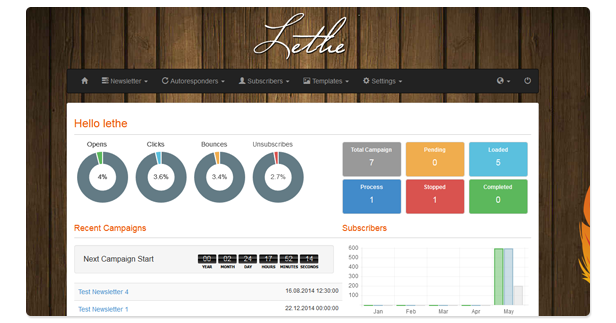 Personalise & Customise
Create custom forms to capture and hold specific values for subscribers such as name, company, phone, etc.
Use custom forms to personalise newsletters and also to segment the sending of newsletters to specific subscribers based on certain criteria.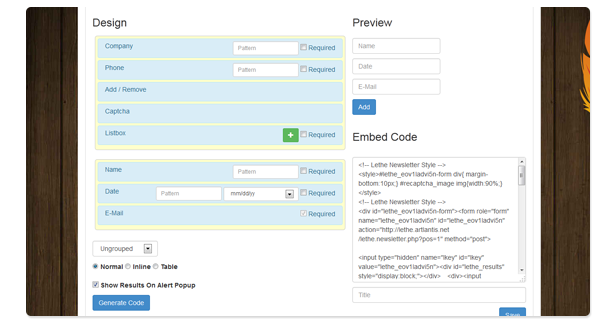 Easily Management
Create groups and lists to organise subscribers. Each list can behave differently and you can create private lists or even paid lists for exclusive content.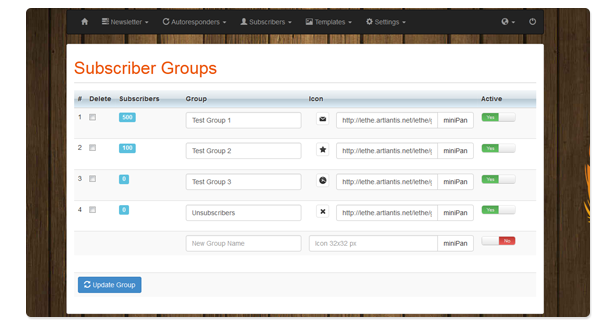 Extend & Integrate
Lethe are available to perform distinct functions or integrate with 3rd party CMS / Scripts.
Demo Links
Live Examples: http://lethe.artlantis.net/
Admin Area: http://lethe.artlantis.net/admin/lethe/
Admin User: lethe Password: lethe
Features
General
SMTP / PHPMail / GMail Support
E-Mail Submission Limits
Multi-User System
Multi Language
Bootstrap Support
AJAX / JSON Support
Cron Support
E-Mail Verification
Bounce Mail Handler
Bounce Mail Cronjob Path
POP3/IMAP Function
Submission Account Connection Tester
User Daily Sending Limit
Advanced Installation Page
WYSIWYG Editor
miniPAN Plugin
reCAPTCHA and Unique Form Keys
Selectable Submission Accounts
Static / Dynamic Short Codes
Attached Files
Graphical Statistics
Subscribers
Blacklist Function
Unsubscribe/Bounce Actions (Ban / Move / Delete / Inactive)
Subscribe via Form / URL / Flash or Custom Forms
Select Subscribers by Groups
Subscribe Form / Link Generators
Custom Success Texts & Redirection After Subscription
Import / Export (txt,csv,wordpress or custom CMS)
Verified & Active Subscriber Function
Advanced Subscriber Search Tool
Manage Users & Permissions
Newsletter
Newsletter & Autoresponder
System Groups (Unsubscriber Group)
Viewed Mail Tracker
Unsubscribe, Bounce, Sent Statistics for Specific Newsletters
Newsletter Resetter
Newsletter Schedule
Easily Swap Templates
Preview and Test Functions
Advanced Newsletter Search Tool
Easily Create HTML Templates
Web View Option
RSS Url (Custom Reader Options)
Autoresponder (After Subscription, Unsubscription or Specific Dates)
License & Price
Lethe PHP Newsletter & Mailing System, all of our systems are used in Artlantis CMS.
See Demo (Username: lethe ~ Password: lethe)